General Summary
The module for Temporary Events and Vendors is separate from the main Site Manager. The temporary events and vendors are tracked through the Temporary Event and Permit Manager. In order to properly track an event and participants, you must first create the record for the event, and then you can set up the Temporary Event Permits that will tie to it.
Creating a Record for an Event
Under the Permitting Tools, go to the "Temporary Event" tool.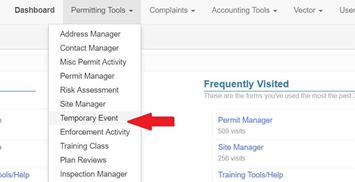 Click the button to "Add New"

Fill in the information on the Event, and click "Save Changes". As soon as the record saves, you will be able to continue building on the record, and set up the Permits.
Creating Temporary Event Permits
From the event to which they apply, use the Permit Manager panel to Add New permits
Fill in the permit information, and click "Save Changes".
*Once a permit is in place, the permit can be printed, and the inspection can be performed. Please see separate guides for instructions on printing and performing inspections
Viewing Existing Event and Temporary Event Permit Records
Use the top navigation to access existing events and temporary event permits.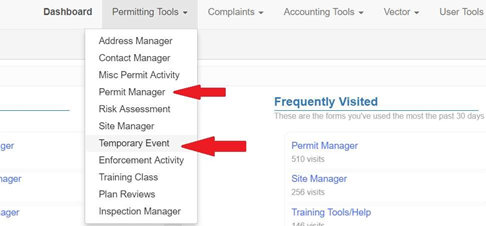 Use the keyword search to look up an existing record. Once a record is found, simply click on the record to open and view.