Create a Letter from the Source Record and Generate the PDF and Find the Letter
Create the letter
Go to the Source List screen and open a record. Usually a permit or Septage and Well list.
eg:

From the record, click on Actions in the Form Letter Manager dataflow panel and select Add New Record or Add New Record in Tab.

Choose:
Letter Title – Choose from the dropdown that shows the letters in the library.
The RE: and Full Letter Content is filled in by choosing the Letter Title. The RE: can be edited.
Letter Date – Choose the date of the letter.
Edit:
Size the textarea box to see the letter (This can be tricky. Watch for scroll bars to help).
Check that the fields have been filled in with the data from the parent.
Add any alternative text or information that was not captured in the fields.

Save Changes and Review:
Click on Save Changes.
Keep the tab open, by selecting Cancel, if prompted.
Preview the letter.


In the form, make any formatting changes needed and Save the changes again.
Getting the letter to the recipient
It is not recommended, to email directly to the recipient as the Subject and Body of the email are generic.

But it is a good way to produce an easily printed PDF that can be saved.

Otherwise, use the download feature in the "generate" tab.

When printing from the "generate" tab, make sure the printer is set "to fit," or words to that effect, in a print menu.

Searching for a generated letter
Option 1
Look in the List View of the parent form and search for a record, then open the record that should have the letter.
Open the letter from the Form Letter Manager Data Flow Panel.

Option 2
Open the Form Letter Manager List screen and use the filter and search to find the letter and then open it.

Filter example: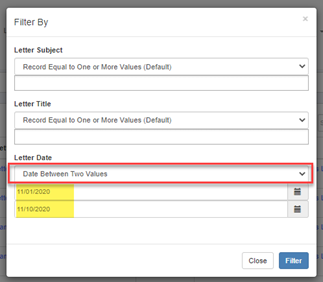 Read this first if needed:
Creating a Letter Template in the Form Letter Library